by Christine Peters
Well, when you are a scrappy little stray dog named "Little Man," it could be anything from foxtails, plumage, mud, or a puppy cut from Catts and Doggs. Some called him "Red," "Red Dog," "Wookie," and in his early days "Cujo," but we knew the local Elysian Park legend as "Little Man."
In late September 2001 he showed up in Elysian Park, making a camp for himself on the Vista Gordo Meadow. A scrappy young thing, with a too-tight puppy collar growing into his neck, he made it very clear, you can look, but don't touch. Oh, and you can feed me, leave me water, let me walk with you and your pack, but no touching.
Well, we did trap him, tackle him and get that collar off of him, but he was soon up and over or under the fence, only to park himself across the street on the curb, staring into the place that held his friends "captive." He waited daily for them to escape captivity, like clockwork, in the morning and evening. He never understood why they did not try and escape as he had.
Years passed. So did attempts to "trap" and tame him. Much roasted chicken was used to lure him into the gated front yard- only for him to tunnel out and wait, across the street. Animal Services set traps, catching multiple neighborhood dogs, squirrels, even a skunk, but never Little Man. Even the self-proclaimed "best roper in the West," who then worked for Animal Services, left unrewarded. Little Man was not to be had – he lived on his own terms, and he liked it that way, until a very hot day in 2008 when his guard was down.
Little Man was so well known in Elysian Park, people would make special trips to feed him and offer him treats. Or just stop by for a visit. He'd become very set in his ways where he would hang out. He would tag along with other folks on their walks, send out "woof woof" warnings to dogs he considered encroaching on his territory, and overall lived a simple life, hanging curbside.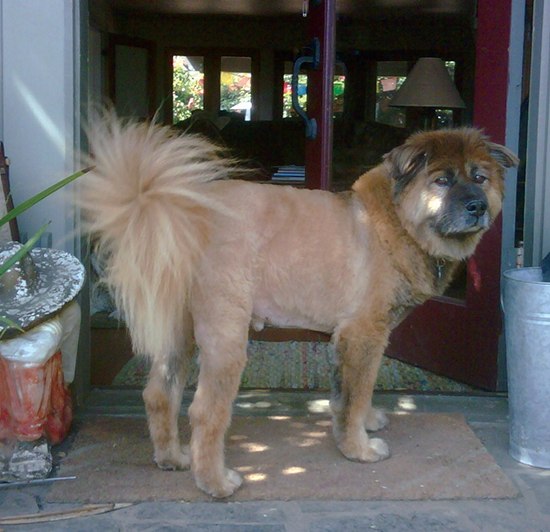 One afternoon, Animal Control had a truck in the area, looking for a stray pit bull that had attacked another dog. They did not find him, but instead, a deeply slumbering Little Man basking in the shade of a coast live oak tree. After six and a half years, he was caught and sent to the "Big House." No tunneling out there.
The neighbors of Vista Gordo were beside themselves. What to do? How do we get him back? Little Man logged more visitors for a stray dog, than the most charming and precocious canines at the shelter. The Shelter staff scratched their heads? Why would anyone care about this scrappy little dog?
After weeks of negotiating with them, it was agreed he would be released to me, on the condition he would NEVER be lose again.  A tall order for a dog that had never been touched. But, fingers crossed behind my back, I swore to abide by the order. Papers signed, off he went to the vet to neutered and micro-chipped. I made the vet promise to put a collar and tag on him while he was under for surgery. How else would I ever be able to get close to him?
Little Man's homecoming was an amazingly rewarding day. He was waiting outside the vet's office with a slip leash on. NO Collar. Ugh. The vet forgot. NOW how was I going to get him in the car and into my house?
We had brought Ray, his best buddy, in the car as a lure to get him in. He surprisingly allowed me to boost him into the back seat with Ray and home we went. Once out of the car, this little guy continued to be full of surprises. He let me slip a collar and leash on him, and then he walked like a show dog into the house, his signature fan tail waving back and forth. The next morning when the pack went for their walk, he joined us-on leash.
My only explanation I could ever come up with for this sudden behavior, was, that he was "scared straight." Like the 1970's prison documentary they showed us kids (those of us who were in school in the 70s), to make us not get involved in crime. Whatever it was, he was a changed man. No more attempts to escape, and soon he was walking on and off leash, never leaving the pack, and always coming back into the house at the end of our walks. He had a bed and favorite couch on the back porch. He never spent another rainy night outside in the cold.
This miraculous journey continued on for the last four and a half years. People would see him and not recognize him. He would greet his old pals with that signature circular fan wave of his bushy tail. He let people pet him. Overall, he was a miracle. Just four weeks ago he was diagnosed with multiple myeloma, a cancer that affects how the blood cells replenish. His issue was high viscosity of the blood which was making his heart work overtime. He still insisted on coming on a shorter version of the walk in the park, sniffing his way around, as he also had experienced sudden blindness. His medication seemed to be working, and just and days ago, he was barking to go out in the park, waving his tail, and gobbling up snacks.
Thursday, he was not himself. We went to the vet, they gave him some fluids, ran some blood work… nothing definitive. They wanted to keep him overnight, and I just felt, this was it, and it might be his last night. So I brought him home. In retrospect, maybe I should have done something different, but, he had been doing well on his new meds for the past week, and we always want to give them another chance.
He was clearly uncomfortable tonight, so I set him up outside on a dog bed with lots of water around him. I brushed him and sat with him for a long time. He woke me up with a little bark about 1:00 am, and I knew it was time. I bundled him up and held him, let the other dogs say goodbye and carried him out to the car to go to the vet to transition him.
Once in the car nestled in the back seat, right over "his curb" he gave one last little kick of his legs like he was running, and passed while I held him. Right above his curb…. He is nothing if not a creature of habit. Please remember him, as he was, the legend, chasing his tail, barking with joy to go on his walks, ruling over Elysian Park, as it was his domain.
https://epia-echopark.org/wp-content/uploads/2015/04/EPIA_Logo-wh-300x137.png
0
0
Secretary
https://epia-echopark.org/wp-content/uploads/2015/04/EPIA_Logo-wh-300x137.png
Secretary
2012-10-03 10:30:02
2012-09-30 11:53:20
What becomes a legend most?