Our town hall yesterday featured a representative from the nonprofit organization CicLAvia to present their street closure plans for this Sunday. The event, a free, open streets event in which streets are closed in favor of bicycles and pedestrians, is coming to Echo Park for the first time since its start in Los Angeles four years ago.
Sections of Glendale Boulevard and Bellevue (just south of Echo Park Lake) will be closed for a few hours on Sunday, October 5. At the corner of Glendale and Bellevue is the "Echo Park Hub," where there will be a DJ, a KPCC booth and food trucks like Fluff Ice, the Grilled Cheese Truck and Mandoline Grill. Also at the Echo Park Hub will be 100 feet of bike racks so event participants can lock up and enjoy.
With the Hub being right next to Echo Park Lake, the concern was that cyclists would find their way into the park – where no cycling or skating is allowed. CicLAvia will have multiple sites with signage posted, and will staff the entries of the park to notify cyclists if they attempt to enter the park. The freeway exit at the 101 will be open but you won't be able to turn left onto Bellevue.
Click on the map below to download the printable PDF of the map, noting the locations where cars will be allowed to safely cross the CicLAvia route with the assistance of DOT.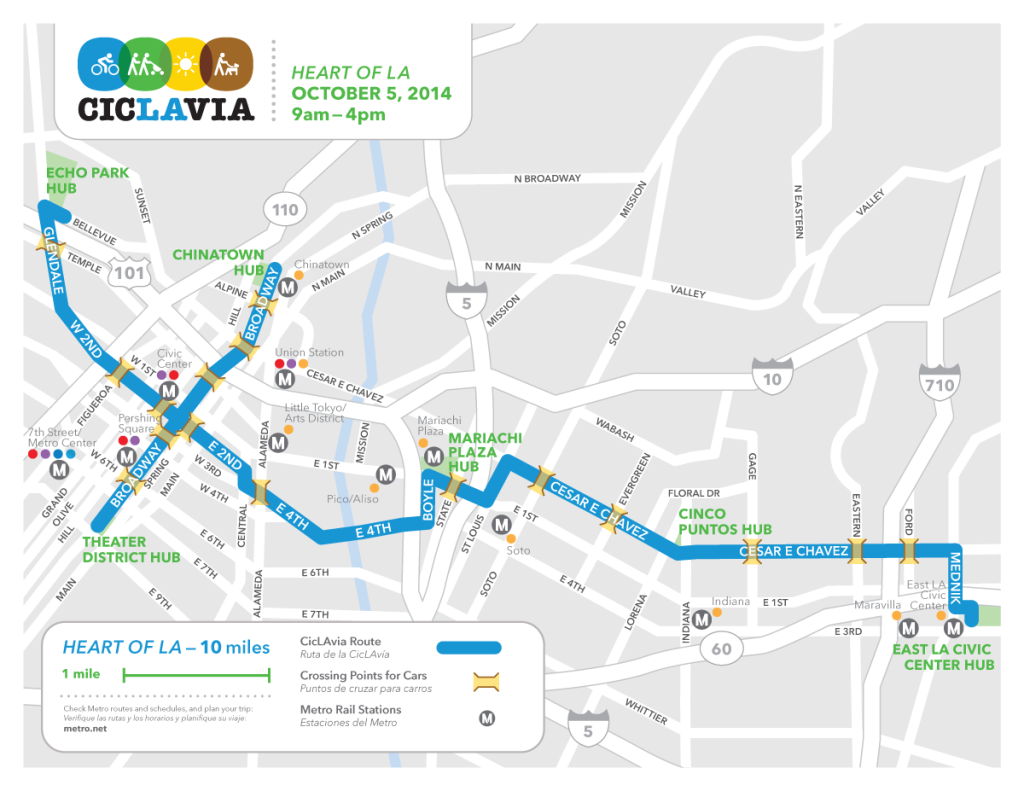 Activities
In addition to the activities at the Echo Park Hub, there will be a lot of great activities throughout the CicLAvia route from food trucks, free walking tours, rock walls, library events, and more.
Click here to download the flyer for a full list of events.
Metro Routes affected
Multiple bus routes will be affected by the street closures. Click here to download the flyer.
https://epia-echopark.org/wp-content/uploads/2015/04/EPIA_Logo-wh-300x137.png
0
0
admin
https://epia-echopark.org/wp-content/uploads/2015/04/EPIA_Logo-wh-300x137.png
admin
2014-10-03 11:13:06
2014-10-03 11:13:06
CicLAvia comes to Echo Park: Road closures and more