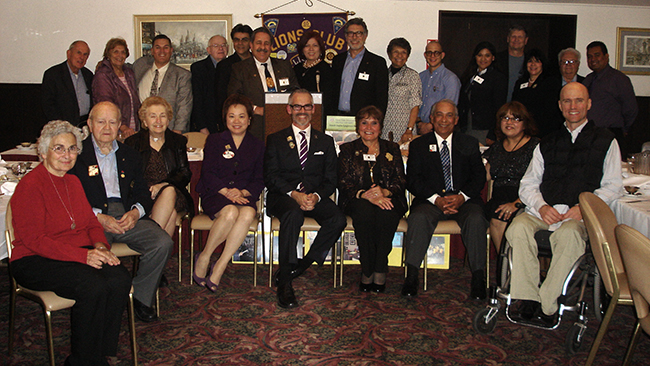 Submitted by Carol Mares, President LA Host Lions Club
On Thursday evening, January 23, 2014 at Taix, Restaurant, the Los Angeles Host Lions Club hosted Councilman Mitch O'Farrell representing the 13th District of the LA City Council. More than 30 Lions and guests attended this unique dinner meeting which also was the kickoff for the evening meetings for the club. Councilman Mitch was very optimistic of the future of Los Angeles.
He stated that several things were underway, among them a $1 billion revitalization plan for the LA River, secured funding for business improvements, and master plans to help make the streets safer and more inviting.
He talked about his desire to create more affordable housing for veterans, senior citizens and professionals too. He feels the real need to work for the long term to help the quickly declining middle class. He wants to bring back jobs in the entertainment field especially production jobs. He dreams of the day he will see a trolley car in Hollywood going down Sunset Blvd. to Union Station. Lastly, he wants, "LA to be the envy of the world and a great place to live and work."
He filled the room with energy, vision and optimism. Everyone left impressed, energized and ready to see how the LA Host Lions Club can make a big DIFFERENCE as WE SERVE Echo Park and the greater Los Angeles area.
https://epia-echopark.org/wp-content/uploads/2015/04/EPIA_Logo-wh-300x137.png
0
0
admin
https://epia-echopark.org/wp-content/uploads/2015/04/EPIA_Logo-wh-300x137.png
admin
2014-02-06 10:59:11
2014-02-06 10:59:11
LA Host Lions Club Hosts Councilman Mitch O'Farrell